Mission Statement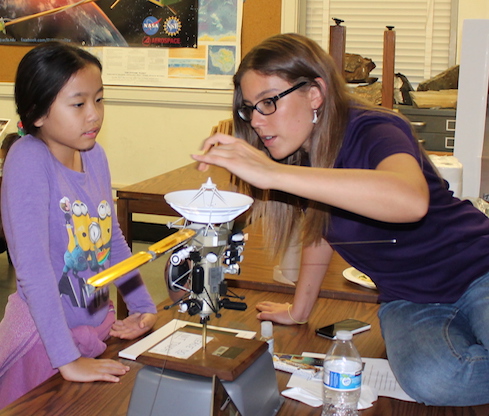 EPSS Graduate Student Ashley Schoenfeld uses a scale model of the Cassini spacecraft to describe instruments and science investigations at Exploring Your Universe 2017.
"The distinctive mission of the University is to serve society as a center of higher learning, providing long-term societal benefits through transmitting advanced knowledge, discovering new knowledge, and functioning as an active working repository of organized knowledge. That obligation, more specifically, includes undergraduate education, graduate and professional education, research, and other kinds of public service, which are shaped and bounded by the central pervasive mission of discovering and advancing knowledge." — Mission statement of the University of California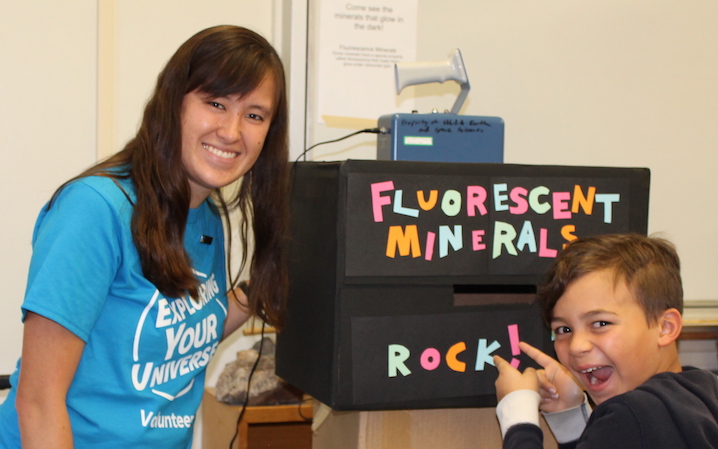 EPSS graduate student Krista Sawchuk exhibits fluorescent minerals with an ultraviolet light at Exploring Your Universe 2017.
Students, researchers, and faculty in our Department believe that public outreach and community engagement are important components of our public service mission. By actively partnering with local K-12 schools and other groups, we strive to inspire students of all ages in Science, Technology, Engineering, and Mathematics (STEM). Every year, we reach tens of thousands of curious minds with presentations, exhibits, and demonstrations. We aim to increase our community engagement in ways that are sustainable and compatible with our finite human and financial resources. Please peruse our website to learn about our annual events, request a field trip to UCLA, or request an outreach visit to your school or organization.
One of the best ways to experience EPSS's energy and enthusiasm for outreach is to participate in the annual science fair Exploring Your Universe that usually takes place on the first Sunday of November. Our Department has been a co-sponsor and co-organizer of this event since its inception in 2009. The event is free and open to the public.